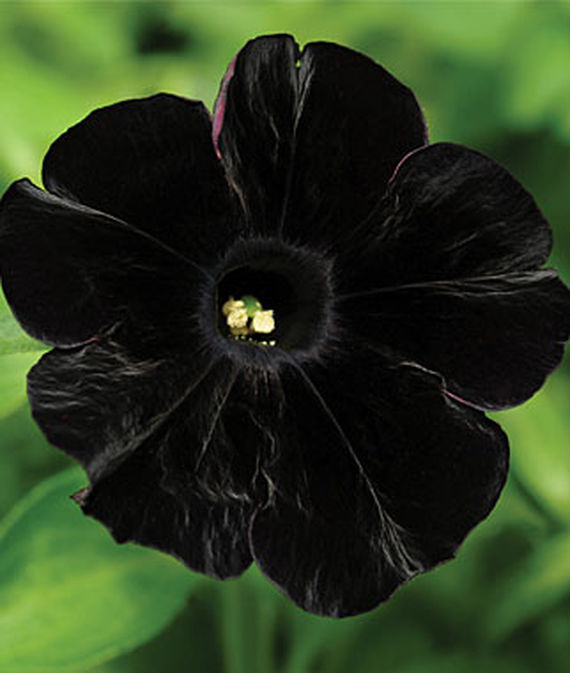 The Black Cat Petunia is a beautiful black flower that looks stunning in any garden. Considered to be the world's only black petunia, this flower adds texture and depth and resists both drought and diseases. These flowers thrive in full sun and should get at least six hours of direct sunlight every day. They will grow to between eight and twelve inches in height and will spread out eight to twelve inches from where they were planted.
The seeds for this petunia can be sown indoors and the plants then sown in the ground after any danger of frost has passed in the early or mid-spring. You may also opt to purchase bedding plants at a local garden center and transplant them into the ground when it is safe from frost in your growing zone. They are an annual plant and will need to be replanted every year. Blooms will last for a period of approximately ten weeks.
Although the Black Cat Petunia does look very black, there is actually some very deep, dark purple tone to them, generally on the back of the leaves. This purple color is not generally visible from a distance. In extreme cases of heat or drought, these flowers may develop a yellow streak in them.
These black flowers make the perfect addition to any gothic style garden theme. They would work well planted in clusters, in borders, or even in containers. When used in a gothic garden, plant among deeply red and very dark purple flowers, and other black flower choices such as the Black Barlow Columbine, Black Calla Lily, the Bat flower, and the Onyx Odyssey. Adding a archway with some vines, and some gothic style garden statues will help complete the mysterious and spooky look.
The Black Cat Petunia is easy to grow and tends to grow into bushy mounds of blooming flowers, perfect for the gothic look, or to simply add some unique contrast to other garden flowers.
(Visited 2,516 times, 1 visits today)