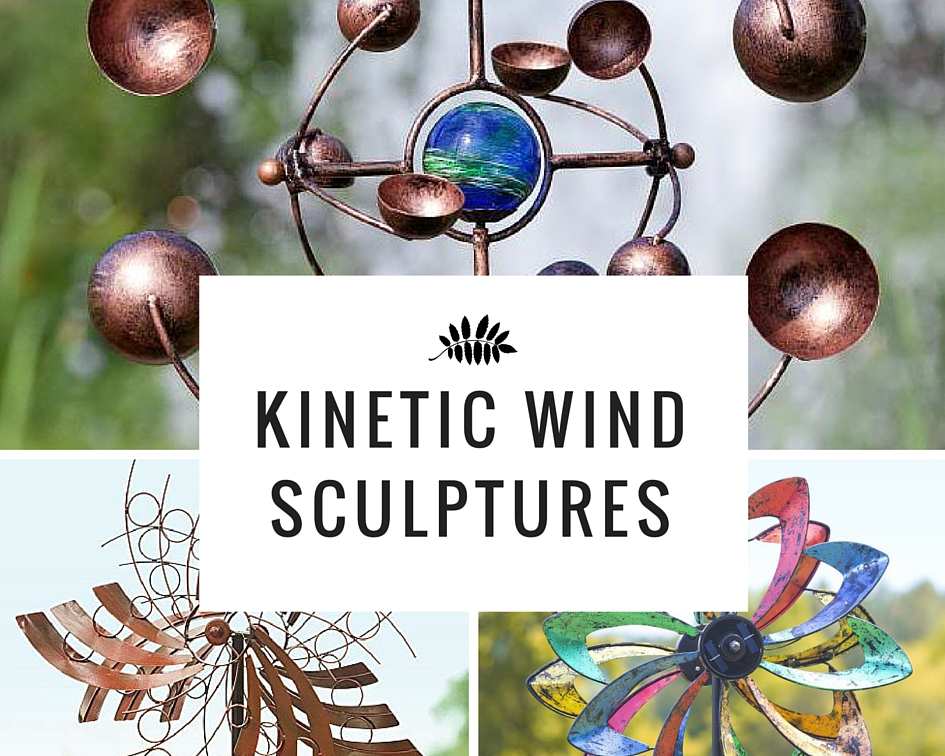 Designed to add movement to garden decor, kinetic wind sculptures are beautiful pieces of art that incorporate the clever use of sculpted pieces which spin in different directions with the blowing wind. The design of these sculptures can range from simple to intricate and the price range varies just as much. Expect to pay anywhere from a few dollars to several hundred dollars for the larger pieces. No matter the design or price, each unique piece adds its own elegant touch to garden decor.
As you browse through this article, you will find that there is something to suit all tastes and budgets. Consider giving kinetic wind sculptures as a thoughtful gift for anyone who loves their garden. They make the perfect gift for occasions such as birthdays, anniversaries or Christmas. These sculptures are not limited to garden use, but also make great additions to the patio or balcony.
What Is Kinetic Art?
Kinetic art first made its appearance in the early 20th century. It is derived from the art movement known as constructivism. The sculptures and works of art that are referred to as kinetic art all involve some type of movement. Pieces are three dimensional and made in such as way that their appearance is enhanced through the movement and plays a key role in the visual appreciation of the piece. When kinetic art pieces are used as garden decor, the motion for the piece is provided by the wind. These types of mobile works of art are sometimes referred to as spinners or whirlygigs. Many artists have been inspired by kinetic art including Marcel Duchamp, Alexander Calder and Theo Jansen.
Making Room For Wind Sculptures
The most difficult challenge to adding a large wind sculpture to your landscape is finding enough room. Keep in mind that you shouldn't limit yourself to actual garden space, that adding a wind sculpture to the front or back yard or even near the front door of your home can make a welcome addition. Just be sure that the sculpture is placed in such a way that it has room enough to move and spin freely.
******
One Kinetic Artist In Motion
Here we take a look at one artist, Anthony Howe, and see how he creates his amazing 3D otherworldly kinetic sculptures from steel. The artist first uses a computer to create his designs in 3D so he can have a visual as to how the piece will move. This video shows some of his creations.

******
Pinwheel Style Spinners
These great pinwheel styles are reminiscent of a favorite childhood toy. Add fun and whimsy as well as motion to any garden or landscape. You can also use them to teach children about the power of wind.
Kinetic Sculpture Pinwheel Spinner
Kinetic Sculpture Pinwheel Spinner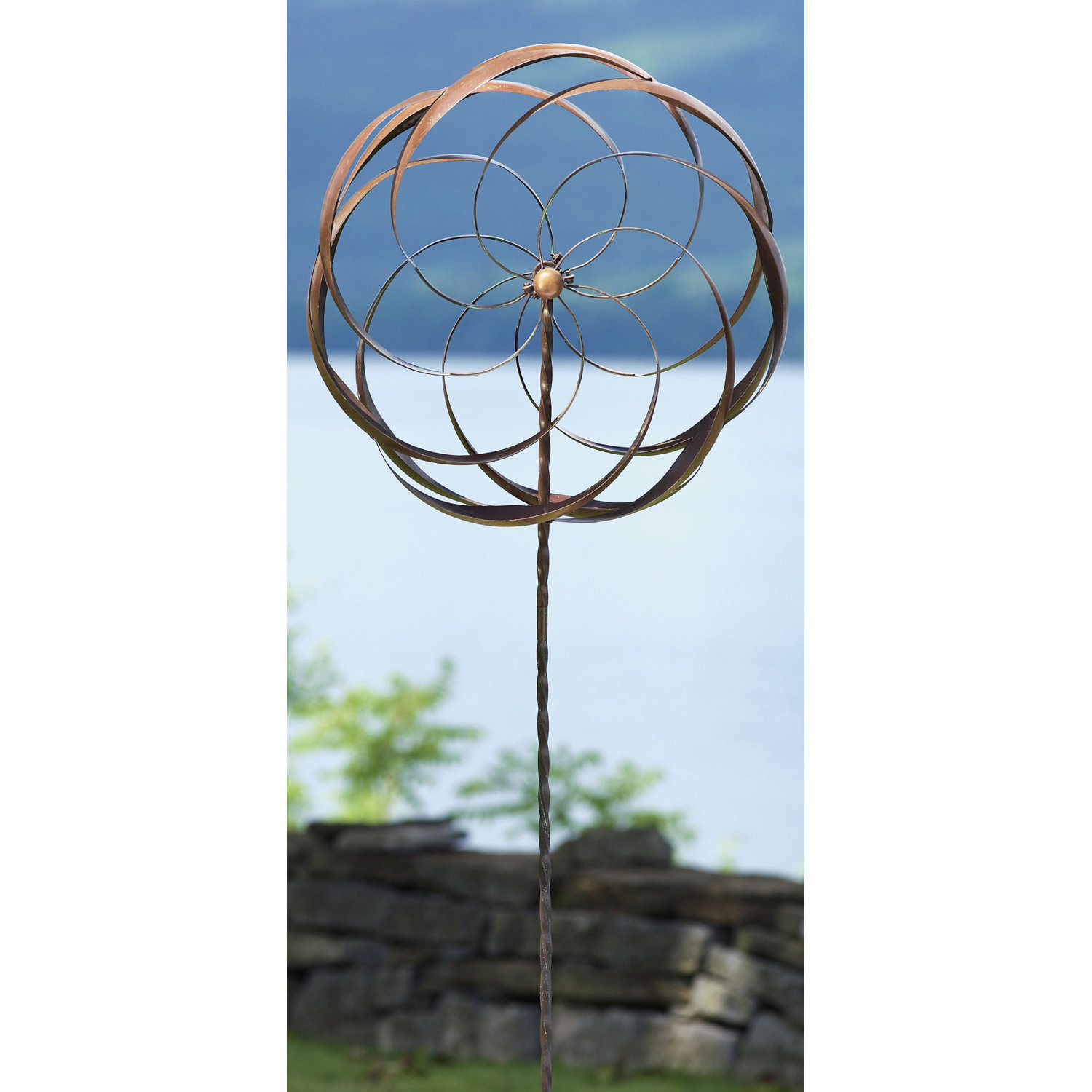 Flower Staked Pinwheel

This sculpture creates an eye catching display in any garden setting with its two sets of blades that spin in different directions along with the movement of the wind. Powder coated steel provides long life while at the same time providing a verdigris effect as piece weathers gracefully over time. Piece is 75 inches tall by 22 inches by 8 inches. Makes a great gift for gardeners and anyone who loves gardens.
Two-Tone Pinwheel Spinner
Two-Tone Pinwheel Metal Spinner

Bring back memories of childhood with this oversized metal garden pinwheel spinner that features two kinetic spinners in different metallic tones. Blue center adds both color and interest to the piece. Made from durable metal, the spinner stands 67 inches high and is 20 inches in diameter. Click here to see the pinwheel spinner in action!
******
Colorful Wind Spinners
Looking to add not only motion, but some color to your landscape as well? These spinners offer both motion and color.
Confetti Kinetic Wind Spinner
This confetti wind spinner is constructed from metal and has beautiful colors that form a beautiful flower when spinning. The design itself resembles peacock feathers. Spinner stands over six feet tall, with a 24 inch diameter. Curving radial lines interlace with circles of vivid color, making this sculpture an imposing piece of beauty when used in any landscape. You can see it in action below in this video.
Two-Tiered Kaleidoscope Kinetic Garden Spinner
Two-Tiered Kaleidoscope Wind Spinner

Speckled Spoon Wind Spinner
This Kaleidoscope spinner stands over six feet tall, is 24 inches in diameter, and has an iridescent speckled finish. Features two rotators with spoon shaped arms and a horizontal rotation in two different directions. Item is metal with a multi colored finish. Has red, green, blue, and yellow spoon shaped arms.
Other Colorful Spinners
 Colorful Disc Spinner
 Gold/Silver Dots Spinner
 Red/Green Dots Spinner
******
Tulip Kinetic Garden Stake
Tulip Kinetic Garden Stake

Tulip Kinetic Garden Stake

This tulip garden stake is part of the Kinetic Garden Art Collection and features an animated design of a tulip. Green in color with a powder-coated metal finish, stake measures 72 inches high by 18 inches wide by 18 inches in diameter.
Grand Flora Spinner
Part of the Kinetic Garden Art Collection, this spinner measures 84 inches high by 30 inches wide by 28 inches in diameter. Item is red in color and made from metal. Delightful garden accent or stand alone piece, watch as the two sections of the red flower design spin with the movement of the wind.
******
Dual Spinner Styles
Stanwood Dancing Willow Leaves
Dancing Willow Leaves
Stanwood Wind Sculpture

The design of the kinetic wind sculpture allows the blades to move in various directions when the wind catches it. This beautiful spinning sculpture is made from weather resistant copper that will weather naturally over time and provide decades of lasting beauty. If you're not a huge fan of the weathered look, keep it looking like new by coating it with a clear colored preservation coating. Sculpture stands around six feet tall with each wheel being around two feet wide.
Stanwood Spinning Loquat Leaves
Stanwood Spinning Loquat Leaves

Made from pure copper and brass, this sculpture is 9 feet tall and features heavy duty construction. Head of spinner measures 36 inches in diameter. Moves with the slightest breeze and features extremely detailed and impeccable craftsmanship. Perfect addition for any garden setting.
Other Dual Spinners
 Handcrafted Copper Pinwheel
 Twisted Pinwheel

 Wagon Wheel Spinner

 Illuminarie Dual Motion Pinwheel

 Dual-Motion Windwheel
 Butterfly Dual Motion Pinwheel

New Palm Leaves Spinner
This new Palm Leaves spinner brings the tropics to you with lots of kinetic motion in its dual-spinning rotors. It is a brass or gold-colored metal garden adornment that will fascinate you for hours. Below you can see it in motion on the video.

******
Other Styles to Choose From
Browse through these other selections for a sampling of the various styles offered in large kinetic wind spinners. With so many styles to choose from, there is something for everyone.
Kinetic Art Wind Spinner
The "spoon" shaped wind catchers on this kinetic wind spinner are designed so that it moves with even the slightest of breezes. Each wheel moves independently for a great effect. Metal is sealed with a weather resistant antique bronze finish. Stands over six feet tall with a 29 inch diameter. Watch it in motion on the video.
Garden Dancer Windcatcher
Crafted from weather durable metal and sealed with an antique copper finish, this wind spinner stands over six feet tall and has a 25 inch diameter. Features spoon-like leaf wheels that move independently. Makes a great garden accent piece or can be used as a stand alone accent. This video captures how the spinner moves.
Stanwood Quaking Aspen
Made from pure copper with brass hardware, this is just one of the kinetic wind spinners featuring extreme details and impeccable craftsmanship. Stainless steel ball bearings are completely covered with brass hardware. Super strong 4-point pole anchoring keeps it standing strong. Stands six feet high with wheel diameter of 2 feet and 1 1/4 feet. Spinners move independently and in opposite directions.
Stanwood Double Windmill Spinner
Heavy duty construction of brass and pure copper, with strong 4-point pole anchoring. Measures 6 feet tall with wheel diameter of 2 feet. Two ball bearings allow the wheels of the windmill to move independently and in opposite directions. A third ball bearing allows the sculpture to swivel 360 degrees in the wind.
Zydeco Kinetic Spinner Stake
Zydeco Kinetic Spinner Stake

Zydeco Kinetic Spinner

Spinner stake features counter facing wind cups that catch the wind and rotate by perpetual dual motion. Glows in the dark through luminescent crystals in the hand-blown art glass globe absorbing energy during the day, making it glow at night. Weather resistant electroplated painted copper finish stands up to the elements for many years of enjoyment. Stands 48 inches tall and is 16 inches wide.
Spinning Stem Lawn Windmill
This seven foot tall windmill spins even with the slightest breeze. Adds a touch of kinetic motion to the landscape as well as a splash of pretty mauve color. Durable construction made to withstand the elements.
******
Handcrafted Kinetic Wind Spinners
Looking for a handcrafted piece that is made to order? Consider buying from an artist on Etsy.
Petite Celestial Spiral Moon Topper with Spinning Coils
This is a made to order, handcrafted item made from steel. The Petite Celestial Wind Spiral sculpture features a double coil at the center which allows it to bob up and down in the event of strong winds. This piece rocks, bobs, and features four independently spinning tassel coils. Sculpture stands six feet tall and measures 32 inches from the top to the bottom of the actual sculpted piece. To see this sculpture in action, watch the video below.
Birds and Bees Whirlygig
This mesmerizing wind spinner features birds, bees, flowers and sun with six spinners that rotate. To see it in action take a look at the video below.
And More Spinners
So many choices. So hard to choose. Which one is the right spinner for your garden? Do you prefer color or monotone?
 Flower Wind Spinner

 Ship's Sail Spinner

 Jingle Scroll Spinner

 Solar Sparkler Spinner

 Angel Wings Spinner

 Whimsical Waves Spinner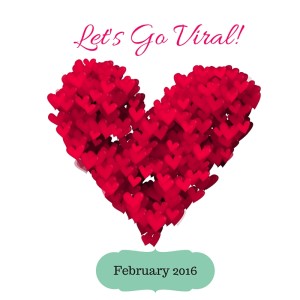 Summary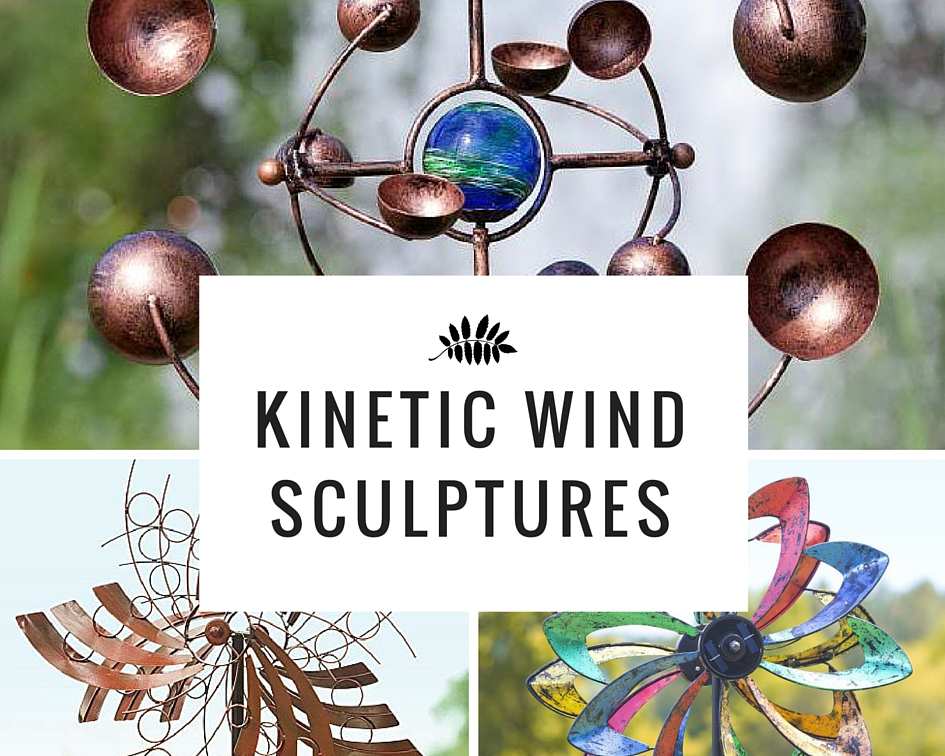 Article Name
Description
Designed to add movement to garden decor, kinetic wind sculptures are beautiful pieces of art that incorporate the clever use of sculpted blades or pieces which are arranged in such a way so that each set of blades will spin in a different direction with the blowing wind.
Author
(Visited 12,855 times, 29 visits today)