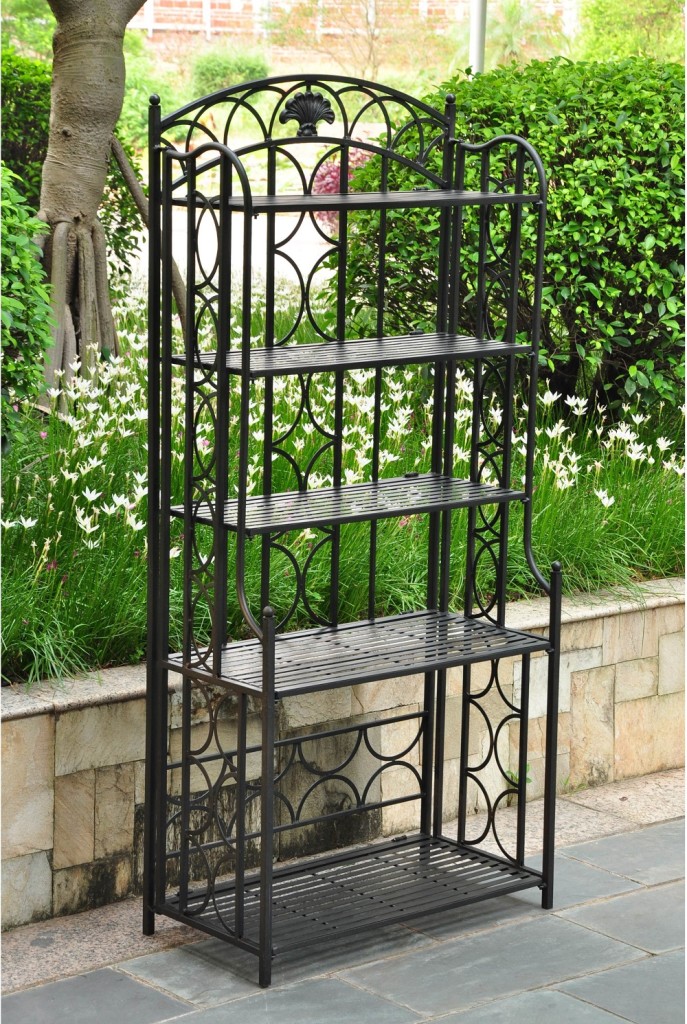 A baker's rack is typically thought of as a handy piece of furniture for use in the kitchen to hold everything from canisters, to cook books, to other items generally found in the kitchen area. However, a baker's rack can also be used for purposes other than the kitchen. Consider using a heavy duty wrought iron baker's rack outdoors as a lovely way to display your plants on a patio or deck. Wrought iron baker's racks offer decorative storage solutions outdoors as well as indoors, and can be used not only to hold potted plants, but other accessories that coordinate with your yard or garden theme. For example, a wrought iron baker's rack lends itself to a gothic garden theme because of the color and ornate design. This is just of many suggested uses for an outdoor baker's rack.
Charleston 5-Tier Indoor/Outdoor Baker's Rack
This heavy duty indoor/outdoor baker's rack is made from premium iron and coated with a protective dual powder to make it resistant to both water and weather conditions. It is also protected to resist fading from the UV light from the sun. This model has a heavy frame that is both durable and foldable and comes with a stable five tier folding mechanism. This baker's rack measures 67 inches from top to bottom and is 31 inches wide, and 15 inches deep. Perfect for holding potted plant containers and other outdoor accessories.
The shelves are hinged and may be collapsed if you wish to have more space between two shelves. Suggested uses on the outdoor patio or deck include using it as a bar or serving area, or as a space to hold tools and food items for barbecuing.
Charleston 5 Tier Indoor/Outdoor Bakers Rack
A very creative idea for use of this baker's rack, especially of purchased in the Antique Black color, is for holding potted plants of dark colors such as deep reds, burgundies, and purples, as part of a gothic garden. The ornate decorations on the frame really lend themselves to a gothic theme. Perhaps paint the plant containers very dark colors to match the theme. Also, a garden friendly gargoyle statue or some other interesting art piece could be nestled between the plants on the shelves. Perhaps place a dark colored climbing vine next to the baker's rack and "train" it to climb along the ornate sides of the frame. The possibilities are endless.
Vulcano Mosaic Outdoor Baker's Rack
This baker's rack is constructed of a wrought iron frame that is protected with rust resistant powder coat paint. Features hand laid tiles made from natural sources such as slate, marble, and travertine which are grouted with durable industrial strength adhesives and should be protected with a weather proof cover if left stored outside during the winter months. Please note that harsh weather conditions such as freezing and thawing can cause the grout to become cracked which can loosen the tiles over time. Either store the mosaic table tops indoors or use a protective cover as stated above. Washable with mild dish soap and water, harsh cleaning products should be avoided. Baker's rack stands 66.5 inches tall and 31.5 inches wide, and shelves are 15.75 inches deep. This style is not as ornate as some, but more of a contemporary style. Rack has four tiers and cannot be folded. This is a custom order, non-returnable item that sells for $499.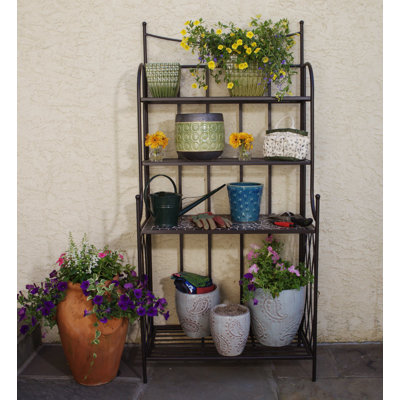 Vulcano Mosaic Outdoor Bakers Rack

Makes the perfect addition and storage solution for any deck or patio and is the perfect place to put your potted plants, watering can, and gardening tools. The dark color also makes this wrought iron baker's rack the perfect compliment to a gothic garden theme. While not decorated as ornately as some models, this rack can still pull off the gothic look if accessorized properly. Place plants of deep, dark colors into containers that you can paint in dark colors and display on the shelves. Add decor such as a gargoyle, raven, dragon, or skull to compliment the plants. Trail climbing vines around the frame to add a really "creepy" gothic look that is sure to impress.
Snowberry Iron Baker's Rack

Snowberry Wrought Iron Baker's Rack

Meetinghouse Étagère Stainless steel Baker's Rack

Pin It for Later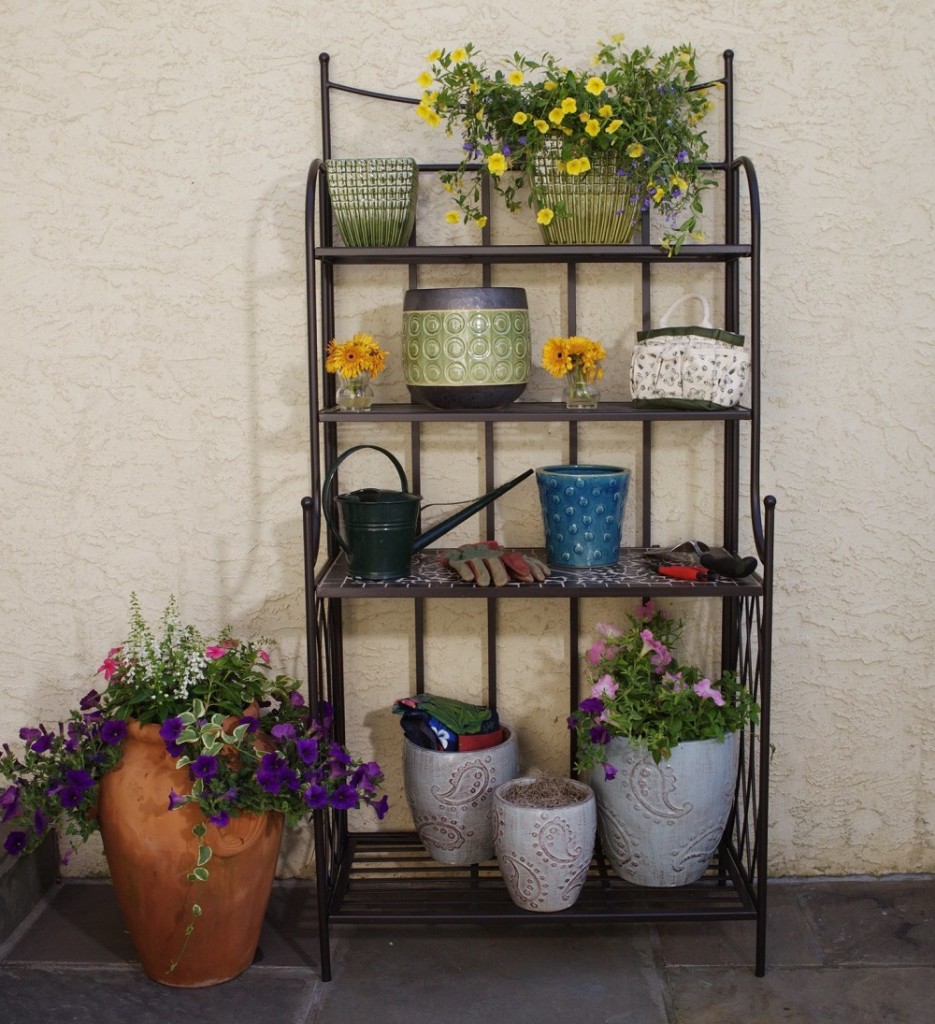 (Visited 2,052 times, 1 visits today)