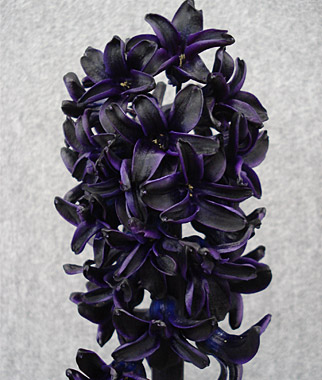 The Hyacinth, Dark Dimension is a striking perennial that features eight to twelve inch flower spikes adorned with very dark, deep purple, densely clustered, star-shaped florets. These beautiful flowers are so dark that they appear almost black in color, with deep purple accents on the edges of the petals. The Dark Dimension is an extremely fragrant flower which will provide your garden or cut flower arrangement with sweet smelling perfume in the spring.
Planting And Care
Hyacinths can be purchased in bulb form and planted during the months of September through November. The blooming period for the Dark Dimension is in the spring from April to May. Bulbs should be planted at a depth of around 20 centimeters and spaced about 15 centimeters apart. The Hyacinth prefers to be planted in areas that receive full sun or partial shade. This plant requires average soil moisture. Allow bulbs to dry between waterings to avoid rotting of the bulb. A little bulb food can be added to the ground each spring as the flower begins to bloom.
Ways To Use The Dark Dimension In Planting
The Dark Dimension works well when planted in a formal flower bed, or when planted in groups of single colors. Try pairing them with other spring bloomers such as tulips, daffodils, or windflowers. These flowers also work well as a border flower. The Hyacinth also lends itself to container planting, so be sure to place the container in a location in which the lovely fragrance of the flowers can be enjoyed. The Dark Dimension make a lovely cut flower, and will fill your home with its sweet springtime scent. Cut flowers can last for up to a period of two weeks indoors. Because they are long lasting as a cut flower, these make a great addition for use in bouquets using real flowers. These flowers will also add a dramatic contrast outdoors when planted among white flowers.
Great For Gothic Gardens
Due to its deep, dark coloration, the Dark Dimension is also a perfect fit in a gothic garden. Plant the Hyacinth where it will bloom among other plants with dark, rich tones of purple, red, and maroon. Since the Hyacinth is a spring bloomer, combine it with other spring bloomers, as well as other dark flowers, ground covers, and climbing vines that bloom during the summer and fall seasons to ensure color throughout the entire growing season. Some suggested flowers include the Bat Flower, Black Velvet Petunia, Watchman Hollyhock, and Bowles Black Viola.
Consider planting the Dark Dimension near a Gothic Revival style archway, trellis, or iron gate. Use them in plant groupings in the background as a taller plant that will stand out among the other flowers. Plant them in clusters in key locations to add a dramatic spring focal point to the garden. Use them for a striking border along a garden pathway, where they will add both interest and delightful fragrance. Planting these flowers near garden decorations such as weather vanes, gargoyle statues, or ornate iron benches will create an eye catching point of interest.
A Versatile Flower
Because of how unique this deeply colored flower is, it lends itself to almost any garden setting. Whether you are planting very light colored flowers, or have a darker theme in mind, the Dark Dimension will make a welcome addition to any garden, cut flower arrangement, or bouquet.
(Visited 1,661 times, 1 visits today)