If you love to garden but happen to have limited outdoor space to work with, you don't have to sacrifice your love of growing plants. When space is limited, take advantage of container gardening to turn your patio, balcony, or small outdoor space into a beautiful growing space. Many types of flowers, fruits, vegetables, climbing vines, and even small shrubs can be successfully grown in containers. All you need is some good quality potting soil, containers with proper drainage holes, and seeds or plants to get started.
Encyclopedia of Container Plants
The Encyclopedia of Container Plants
&
Types Of Containers
Container gardening can be done using many different types of containers. From small terra cotta pots, to plastic urns, to window boxes, to buckets, almost anything that will endure the outdoor weather conditions will work as long as it has drainage holes. Most containers specifically made for planting will already come with holes for drainage, but if you're using something creative, make sure to drill or poke holes in the bottom of the container so that your plants can drain water properly. Decorative tins can even be used to house container plants, just make sure to provide the proper drainage.
Vegetable Choices For Container Gardening
Container gardening is not limited to only flowers, with more and more plant varieties lending themselves to container planting. For good vegetable planting options, consider the Patio Princess Hybrid Tomato, Partenon Hybrid Summer Squash, Shooting Stars Eggplant, and Hot Cheyenne Peppers. Many other vegetable plants will also work well in containers. There is now even a variety of corn that can be grown in a container, known as the On Deck Hybrid. These varieties, as well as many others, are available at Burpee.
Tomato, Patio Princess Hybrid

Squash, Summer, Partenon Hyb Organic

Eggplant, Shooting Stars

Pepper, Hot, Cheyenne Hybrid

Corn, On Deck Hybrid

&
Fruit Choices For Container Gardening
Delicious fruits can also be grown in container gardening situations. Window boxes make an excellent choice for growing such plants as strawberries. Simply attach two or more supports underneath your windows to hold the box, and you have a great way to grow flowers, berries, or an herb garden, all without taking up even an inch of ground space.
&
You can grow your own blackberry vine by adding a trellis to a medium sized container for the vine to crawl up. For other climbing plants and vines, use the same method of adding a trellis to the container. This will also provide height in the small garden space. Compact growers that climb and make good container choices include jasmine and clematis. These plants can be used to provide tall, colorful columns to your deck, patio, or balcony.
Good Flower Choices For Container Growing
Some popular flowers to use in container gardening include the Geranium, Celosia, Salvia, Gaura, Petunia, Dianthus, Nasturtium, and Impatiens. Many other flower choices are also suitable for container gardening, including smaller sizes of sunflowers.
Geranium, Border Mix

Celosia, Arrabona Red

Salvia, Lighthouse Purple

Gaura, Rosy Jane

Petunia, Rose Wave™

Dianthus, Blueberry

Nasturtium, Vesuvius

Impatiens, Vanilla And Berries Mix

&
Making The Most Of Your Limited Space
Utilize the space you have available to maximize the impact of your container garden. You can arrange containers around the perimeter of your growing space. You can set containers on top of a table or ledge. Containers can be placed on either side of a door or on the edges of steps leading to the home. You can also utilize the eaves of the home to hang container plants from. The upside down growing method of the Topsy Turvy is also a great choice for limited spaces, and can be used to grow everything from tomatoes, to cucumbers, to strawberries.
Tips For Proper Growing
As with any type of gardening, good soil is very important for a successful growing season. Invest in some high quality potting soil, and make sure to purchase fertilizers or plant foods specific to the types of plants and flowers you are growing. One advantage to container gardening is that if your selections require more or less sun or shade during the day, if your container is light enough to be lifted you can move it from place to place if needed. If the container is too heavy, you can place castors on the bottom for easy rolling from place to place. Ideally, it is best to situate a container in the best location for its growth so it does not have to be moved. Take care to water plants as needed since they are growing in limited space and the soil may dry out more quickly.
Vertical Gardening An Option For Small Spaces
If space is extremely limited, or you desire to grow a large variety of plants, consider using a vertical growing method. Buy a heavy duty, fabric shoe organizer with multiple pockets that can be attached to an outdoor wall. Use the several pockets for planting your favorite flowers, fruits, and vegetables. Pockets must have holes for irrigation, so use a nail or something similar to poke a few holes in each pocket. This set up makes the perfect location to grow a full herb garden.
Incorporating these suggestions will help you make the most of container gardening on your patio or balcony.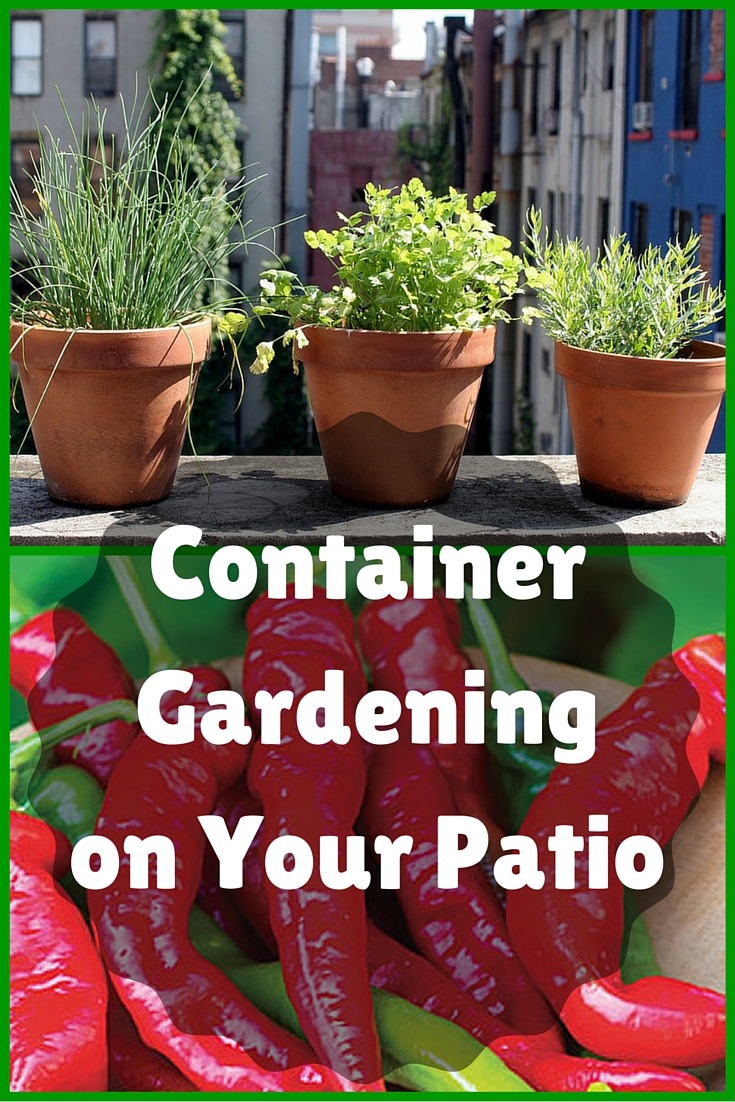 Image CC 2.0
(Visited 818 times, 1 visits today)