Where can you buy sustainable containers?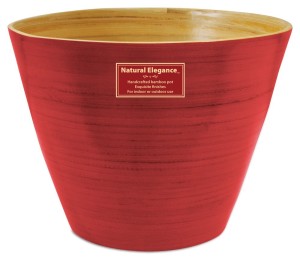 When it comes to selecting containers for planting potted plants this year, why not consider using eco-friendly bamboo planters? Bamboo is a type of grass and is also one of the fastest growing plants in existence. It is found in the Americas and Southeast Asia, and has a wide variety of uses in everything from clothing to building materials. Bamboo is also becoming more popular for use in other eco-friendly items such as planters. A bamboo planter makes an excellent choice due to its environmentally friendly material, durability, and the fact that it is biodegradable. If you have a green thumb and a passion for gardening and are also interested in going green while you do so, bamboo is the perfect alternative over wood, ceramic, and plastic planters.
Decorative Biodegradable Bamboo Planter
Rosso's International P19-15 12-Inch by 10.4-Inch Eggplant Decorative Biodegradable Bamboo
This 12 inch by 10.4 inch attractive biodegradable bamboo planter is by Rosso's International. It is offered in appealing colors such as Eggplant purple, Chocolate brown, and a smaller version is available in a Buttercup color. Planter has scalloped edging around the top and a wavy texture all around the pot.
Good Reasons To Choose A Bamboo Planter
There are several environmentally sound reasons to choose bamboo planters over other materials. Bamboo is a sustainable, renewable resource that grows quite rapidly. It is a very durable product that holds up well for many years and is naturally free of toxins and chemicals. When the usable life of a bamboo planter has come to an end, you can recycle it by tossing it into the compost pile because it is biodegradable.
While there are concerns about exhausting other natural resources such as wood and petroleum used in the production of plastics, there is no need to worry about using up bamboo resources. Bamboo is a self-sustaining plant with the additional environmental benefit of producing three times more oxygen than trees do. Bamboo planters also come in a variety of attractive designs and colors that will appeal to any gardener. Here we take a look at some popular bamboo planters for this season.
Japanese Bamboo Trellis With Planter
This beautiful Japanese trellis and planter combination piece from Oriental Furniture is six feet tall. The cross hatch of the trellis and the sides of the planter are made from eco-friendly bamboo and framed in a dark walnut wood. Trellis is attached to planter for sturdiness. Perfect for growing any type of climbing plant or vine.
Oriental Furniture 6 ft. Tall Japanese Bamboo Trellis w/ Planter
Wooden Bamboo Planter (Succulents and Cactus Growing Kit)
This wooden bamboo planter kit includes everything you need to plant a mini succulent garden, including rocks, potting soil, and 100% natural and biodegradable bamboo planter. This 6 x 6 inch planter looks just like a traditional wood and is a natural wood color. This makes a cute little planter for the home or office space.
Succulents & Cactus Garden Growing Kit
Set Of Three Square Bamboo Planters
This Bamboo planter measures 6 inches by 6 inches and is completely biodegradable. This particular item is sold in packs of six, ideal for a wonderful garden display.
3 Piece Square Planter Box Set
Colorful Biodegradable Bamboo Pots
Rosso's International P2-2 6.3-Inch by 9-1/2-Inch Rust Decorative Biodegradable Bamboo Pot
Rosso's International P19-4 12-Inch by 10.4-Inch Grass Decorative Biodegradable Bamboo Pot
Rosso's International P5-6 5.6-Inch by 7.1-Inch Ruby Decorative Biodegradable Bamboo Pot
Rosso's International P2-6 6.3-Inch by 9-1/2-Inch Ruby Decorative Biodegradable Bamboo Pot
Rosso's International P1-12 6.7-Inch by 9.7-Inch Indigo Decorative Biodegradable Bamboo Pot
Rosso's International P13-12 3.6-Inch by 3.7-Inch Indigo Decorative Biodegradable Bamboo
Rossos International P24-4 5″ Grass Quattro Eco Pot (Pack of 6)
Rosso's International P41-15 7-Inch Medium Eggplant Windsor Planter
Bamboo Facts
Bamboo is a sustainable, renewable source – unlike wood or petroleum based plastics. Bamboo grows very quickly, some varieties grow up to 6 feet a day and can reach up to 100 feet in height.
Bamboo does not contain any toxins or chemicals.
Bamboo products last for many years.
When they break or wear out, bamboo planters are biodegradable – they will rot down into compost.
Bamboo is self-sustaining – it doesn't have to be replanted and can be harvested every 2-3 years.
Bamboo produces three times as much oxygen than trees.
Bamboo can be as strong as oak or as soft as baby cotton.
Bamboo can be manufactured into an almost unlimited variety of products from baby clothes to solid floors.
More Bamboo Planters
Listo Natural Elegance Bamboo Planter, 14-Inch, Bamboo Black
Nearly Natural 506 Lacquered Coiled Rope Decorative Planter, Brown
Listo Natural Elegance Bamboo Planter, 14-Inch, Union Red
Nearly Natural 501 Designer Decorative Planter, Brown

(Visited 1,106 times, 1 visits today)