If you want to add stepping stones to your garden, but don't want to make them yourself, you may want to consider some of the very cool pre-made garden stepping stones listed here. These make very nice gifts for Easter, Mother's Day and Father's Day, or you can put them in your own garden to create a path to your patio or just as a garden accent.
I have included a few kits which are great for activities with children and grandchildren, or you can also give them as gifts for Easter or a birthday. One of them is a great idea for new parents or parents of young children because you can put a child's handprint in it.
Gardening season is just around the corner, so take a look at these. Click through each image for the product page or scroll down for the written list of all of the products.
Here's where you can find these garden stepping stones
nuLOOM Hand-carved Stones and Pebbles Wool Rug (5′ x 8′) • nuLoom • $158–171
NFL Stepping Stone • $19
Cat Stepping Stone • Bed Bath & Beyond • $12.99
Run Free Now Dog Remembrance Stepping Stone Plaque • Bed Bath & Beyond • $12.99
Oakland Stepping Stone 0.5in • $28.49
Stepping Stone CrtvRt Multi-colored 8in • $4.99
Oakland Stepping Stone 0.5in • $25.99
Oakland Stepping Stone 0.5in • $21.99
StyleHaven Harrison Stepping Stones Trellis Rug • $60–750
Oakland Living Dragonfly Garden Stepping Stone – Outdoor • $25.99
Oakland Living Hummingbird Garden Stepping Stone – Outdoor • $29.74
Oakland Living Butterfly Garden Stepping Stone – Outdoor • $29.74
Oakland Living Frog Garden Stepping Stone – Outdoor • $29.74
Oakland Living Footprint Garden Stepping Stone – Left – Outdoor • $25.49
Oakland Living Dragonfly Garden Stepping Stone – Outdoor • $30.99
Oakland Living Hummingbird Garden Stepping Stone – Outdoor • $30.99
Dot & Bo Stepping Stone Container • Dot & Bo • $260
MacKenzie-Childs Flower Basket Stepping Stone • Mackenzie Childs • $68
Milestones Garden Hand Print Stepping Stone Kit • JCPenney • $24
Milestones Dad And Me Stepping Stone Kit • JCPenney • $37
Milestones Cupcake Stepping Stone Kit • JCPenney • $23.99
Good Ideas Luna Stepping Stone – 2 p • $39.99–44.99
Vintage Tortoise Stepping Stones – Set of 3 • $94.99
Dominoes Stepping Stones Sets • $95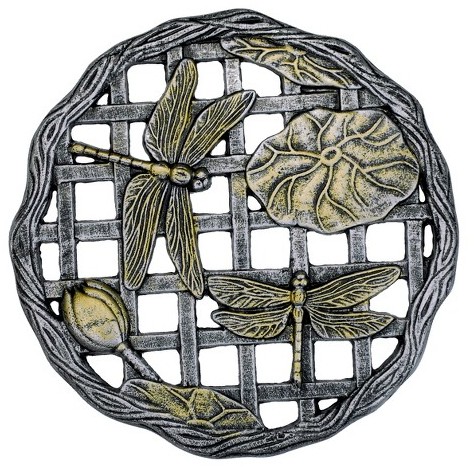 (Visited 1,087 times, 1 visits today)