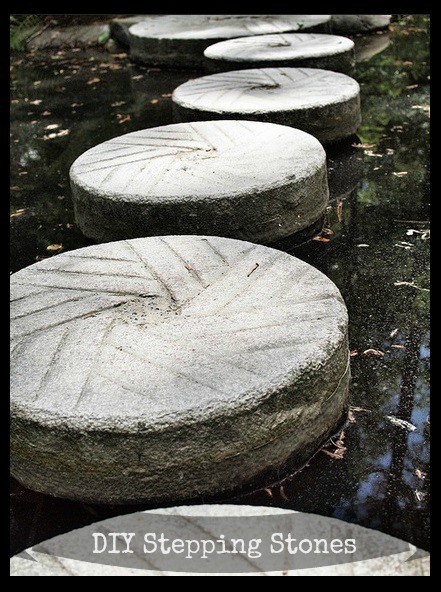 Stepping stones can be used to add interesting walkways to your landscape or garden, for decorative purposes, or as a tribute or memorial for a special loved one or pet who has passed. Stepping stones can be purchased from a variety of retailers in the lawn and garden section or can even be made as a fun do it yourself craft project. The stones add both interest and detail, while at the same time creating a place to walk. Here are some tips on how to lay stepping stones, ideas on how to make them, and examples of some of the unique stones available for purchase.
***********************************************************************************
Creating a Stepping Stone Walkway or Path
Perhaps you want to create a walkway between the house and the garage or shed, a path out to the garden or patio, or maybe a stone path that runs through a backyard pond. Stones can be placed randomly within the lawn or garden plot, or used with other materials to create an attractive walkway.In order to place the stones at intermittent spots within the lawn, you will first need to clear the area where the stones will be placed from grass and other vegetation. Then you will dig a hole just slightly deeper than the stepping stone so that it fits inside of it. Place a layer of sand on top of the soil and gently put the stepping stone into place. Allow stone to settle for a few days before you actually begin to walk on it.
If using stepping stones as part of a walkway design, first dig out the entire area where the walkway will be. Dig deep enough that stones will be level with landscape once pathway is complete. Place a layer of sand in the cleared space where the walkway will be. Lay your stepping stones wherever you desire within the pathway and check to see that they are level by using a level. Adjust accordingly, if needed. Next, place a weed barrier material down on all areas of the pathway, cutting holes in the fabric or plastic material around the stepping stones. Bare areas of pathway may be covered with fresh landscaping bark or mulch, gravel, or decorative rocks. Once pathway area is filled, install edging to keep materials within the pathway from spilling out onto the lawn.
**********************************************************************************
"Welcome" Stepping Stone
This stepping stone is made from resin and measures 11.5 inches square. It has rounded edges and is carved with metallic painted flowers add a brilliant pop of color. This is a beautiful way to welcome loved ones to your garden or walkway.
Sun Glow in the Dark Stepping Stone, 10″
This bright sun stepping stone will light up your lawn during nighttime with its glow in the dark features. The stone is inscribed with the saying, "Friends are like sunshine in the garden of life." Add to your own garden or give as a gift to a gardener friend.
Sun Glow in the Dark Stepping Stone, 10″
River Rock Stepping Stones Set
These stepping stones are made from from river rocks to add a natural look through your garden. They have a water-smoothed surface that will blend into your garden beautifully.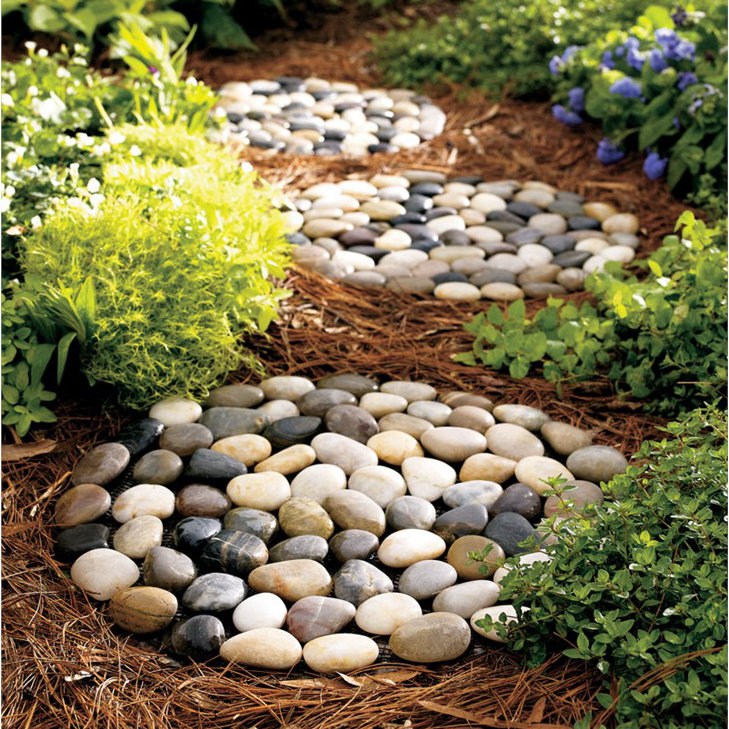 River Rock 3 Piece Stepping Stones Set

Pet Devotion Stepping Stone
This stone memorial to your family pet is a great way to remember and honor them. It has the text It has the text "In Memory of A Faithful Friend and Companion" written on it and a paw print on top of the text, which gives it an appealing look.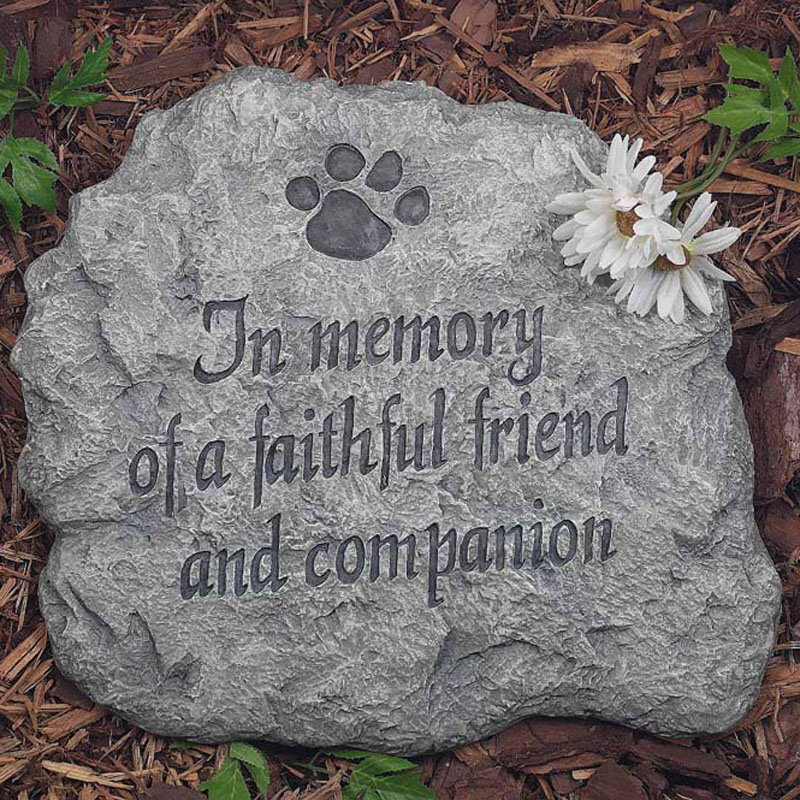 In Memory of A Faithful Friend and Companion Stepping Stone

************************************************************************************
Create Your Own Homemade Stepping Stones
It's easy to make your own homemade stepping stones using a mold, some fast drying concrete product, chicken wire, and embellishments. Almost anything can be used as a mold, including an empty box, plastic crate or basket, and various shapes and sizes of foil cooking tins. Make sure to spray your surfaces with a non-stick agent such as Vaseline or cooking spray before adding concrete. You can even line the mold with plastic wrap or plastic garbage bags that have been cut. Use a plastic bucket for mixing concrete and only mix up enough for one stone at a time because it dries very fast. Before filling mold or mixing concrete, cut chicken wire to the shape of the mold, making sure all sharp edges are folded under. The wire helps to strengthen and reinforce the concrete.
When ready, pour half of the concrete mixture into the mold and gently tap down to settle it. Then add the chicken wire. Next, place the remaining concrete into the mold and tap mold gently down on a hard, flat surface to settle it. Now you can add any embellishments to the stone. This could include placing glass stones in it, adding broken mosaic tile pieces, or perhaps personalizing them by having the kids and other family members put their footprint or handprint in the concrete (and immediately washing up) and writing their name in it.
Now place your mold somewhere to dry and leave it alone for a period of two or three days before attempting to remove it. Allow stepping stone to cure for at least one week before placing it outdoors or walking upon it. Mist the stone with water once or twice during the day to keep the concrete from drying too fast. Now, you have personalized, homemade stones to use as a walkway or decorative accent in the landscape.
Stepping Stones Kits
If you don't want to make a stepping stone from scratch, you can use one of these kits to get started and still have a handmade stepping stone when you are finished.
Daisy Stepping Stone Kit
Mosaic Stepping Stone Kit
Mosaic Star Stone Kit
Make Your Garden Stepping Stone Kit
Inspiration Stepping Stone Kit
Mosaic Stepping Stone Kit
Handprint Stepping Stone Kit
Mosaic Leaf Stepping Stone Kit
Pet Photo Stepping Stone Kit
Family Photo Stepping Stone Kit
Pebble Mosaic Stepping Stone Kit
Dad and Me Stepping Stone Kit
Mosaic Stepping Stone Kit
Mosaic Stepping Stone Kit
Mosaic Turtle Stepping Stone Kit
Thrifty Stepping Stones
[youtube]https://www.youtube.com/watch?v=b4rHK1Cu_Ws[/youtube]
(Visited 700 times, 1 visits today)