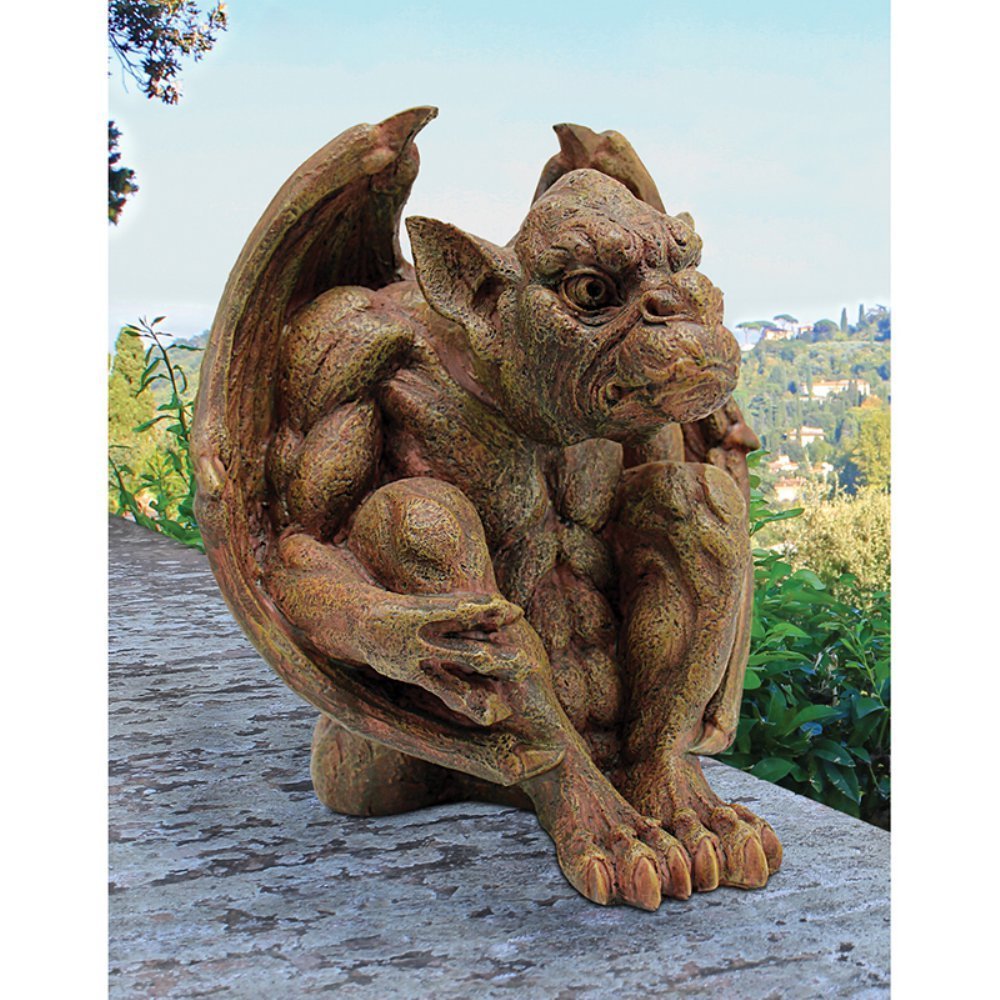 If you are looking to add some awesome, scary, or funny gothic garden gargoyles to your gothic garden this year, there are some great choices of gargoyle statues to pick.
This guy above is my personal favorite to add to a gothic garden because he looks like he is about to cause some fabulous mischief.  Gargoyles can be quite mischievous in a garden setting, so you may need to separate them from any garden gnomes you have in your garden.
Most garden statues come in more than one size allowing you to find a garden statue that will fit the size of your garden and the space you have in and around your flowering plants.  This gothic gargoyle garden statue is made out of a fiberglass resin, which means that it is mostly impervious to all but the most severe weather conditions.
The look in this gothic gargoyle's eyes says it all, as you will most likely find him hiding behind a large bush, or in between some tall black flowers as he contemplates the next adventure that he is going to participate in.
You do not need to worry about providing food for your gargoyle, as they will forage for food at night while you are sleeping, although you may find yourself listening for gargoyle parties or hearing some mild scurrying in your garden in the late evenings when it gets dark outside.
 Design Toscano Emmett the Gargoyle Sculpture
 Design Toscano Florentine Gargoyle Statue Size: Large
 Design Toscano Ashes The Gothic Gargoyle Statue
 Design Toscano Roland the Gargoyle Rain Gutter
 Design Toscano Balthazar's Watch Gargoyle Statue
 Winged Cat Gargoyle Statue Figurine Myth Fantasy
 Design Toscano The Gothic Gargoyle Statue
 Design Toscano Legend of the Cambridge Hopping Gargoyle Sculpture – Large
 `Bori` Smiling Solar Gargiggle Garden Statue with Light Up Eyes
 Design Toscano Abbadon Gargoyle Statue
 Design Toscano Talisman Gargoyle of the Eclipse Statue
 Design Toscano Posted Beware of Gargoyles Garden Sign Quantity: Single
 Reading Gargoyle Garden Sculpture – Weatherproof Cast Resin Exclusive
 Design Toscano Babble and Whisper Gargoyle Statue (Set of 2)
 Design Toscano LY312106 Plato The Ponderer Gargoyle Imp Statue
 Kelkay 4421 Happy Zibling Statue
 Design Toscano Head Pub Gargoyle Statue by Artist Liam Manchester
 Design Toscano Gargoyle on the Loose Wall Sculpture
 Design Toscano Silas the Sentry Gargoyle Sculpture
 Design Toscano Oscar The Gargoyle with Attitude Statue Size: Large
 30″ Classic Dragon Gargoyle
 Design Toscano Cedric, the Squirt Gothic Gargoyle Fountain
 Design Toscano Chained Cathedral Gargoyle Statue
 Safari Ltd Mythical Realms Gargoyle
 Design Toscano Ranier Dragon Rainspout Statue
 Design Toscano Feast on Fools Gargoyle Statue Size: Large
 Solar Mythical Gargoyle Statue
 Sitting Gargoyle Concrete Statue 11 inches H x 8 inches W
 Design Toscano The Picc-a-Dilly Gargoyle Sculptures – Small Set Includes: Small Bum, Ear and…
 Design Toscano The Cathedral Gargoyle Statue
 Design Toscano Gargoyle of Naples Bronze Garden Statue
 Architectural Home Garden Gargoyle Statue Sculpture
 Design Toscano Leo The Laughing Gargoyle Statue
 Design Toscano Desmond the Dragon Sculpture
 Design Toscano Medieval Marauder Gargoyle Statue, Gray Stone
 17″ Winged Bonded Cathedral Gothic Purebred Gargoyle Dragon Statue Sculpture Figurine
&

(Visited 2,388 times, 1 visits today)