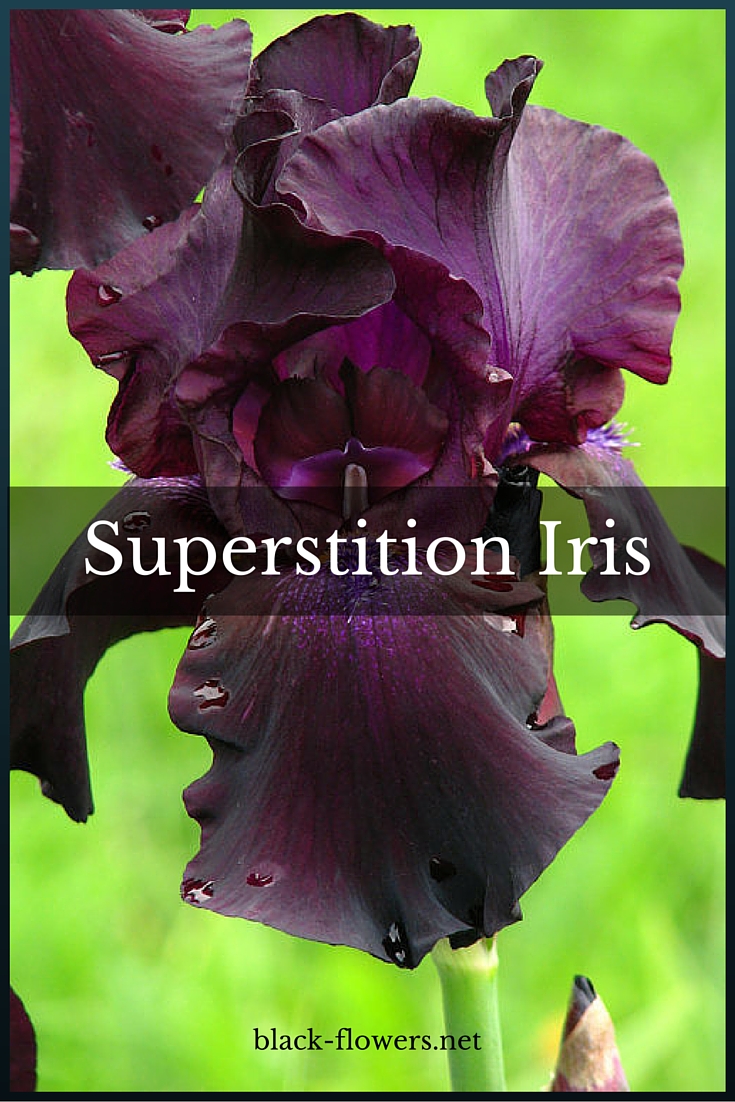 Looking to add a plant to your garden that has rich eye popping color and that is a bit on the mysterious side? Look no further than the Superstition Iris. This is a beautiful flower with dark purple-black ruffled falls and bluish-purple beards. These flowers are sure to add a touch of elegance and mystery and even their name suggests that they would make the perfect addition to any Gothic garden setting. The Superstition Iris will bloom in mid-Spring and again in later summer to early fall. The stems are well branched and will have approximately 8 to 10 buds on them at once, with three buds typically flowering at once, creating a lovely display. You are sure to love the deep dark color these Iris plants will add to your garden setting. Make a perfect plant for those who like a Gothic or Victorian Black Garden theme. This variety of Iris is especially lovely since it bloom twice within one growing season.
Superstition Iris Bulb
2 Superstition Iris Plants
&
Description of the Superstition Iris
This plant produces fan shaped flowers that have three drooping petals which are referred to as fans. There are also three petals that stand upright, known as standards. The foliage on the plant consists of green, sword-like fans consisting of stiff upright leaves. Plants will grow to be about 35 inches tall and is considered to be one of the tall bearded Iris varieties.
Tips for Growing
The Superstition Iris (Iris germancia Superstition) is a perennial that grows well in zones 4 through 9. This plant prefers full sun to partial shade. Ideally, the plant should receive at least five hours of sun per day. For best results, plant in well drained soil, although this plant will tolerate a variety of soil conditions and will even grow in clay soil, loamy soil, or sandy soil conditions.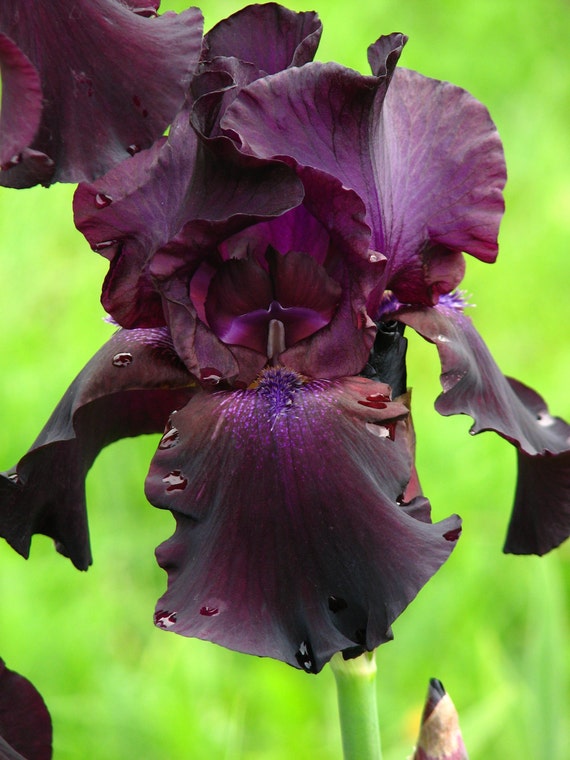 Superstition Iris – Iris Germanica in separate 3 inch plug containers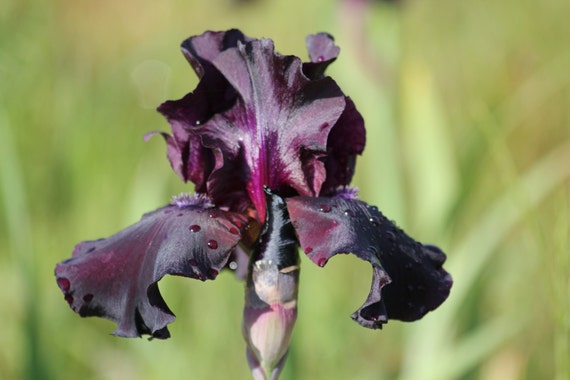 1977 Schreiners Iris Rhizome SUPERSTITION

&
How to Plant the Superstition Iris
Choose a sunny location for planting. Plant in mid to late summer for blooming the following mid to late spring. Place the rhizome so that the bottom half is below ground level and about one inch deep. Position the plants about 12 to 24 inches apart to allow for spreading. Firm the soil around the bulb after planting and water thoroughly. After initial planting, water regularly but avoid over watering as the established plant has average water requirements. Plants will reach a height of around 35 inches and will spread approximately 15 to 18 inches. These plants are heavy feeders and will require fertilizer in early spring and again in late summer. Divide plants every three to four years during the month of August to prevent overcrowding. Plant can then be propagated by diving the rhizomes, tubers, corms, or bulbs and planting them elsewhere.
In the fall of the year, after the second round of blooming, remove the spent flower stems and cut back foliage to 6 inch fans. Clean up any debris around plants before winter sets in to help prevent borers overwintering.
How to Use in the Garden
The Superstition Iris produces blooms that start off looking almost black and then go on to become a stunning deep, rich shade of purple as they mature. This makes them the perfect choice for use in a Gothic garden setting. These flowers would look great planted near a patio or front porch. Use as a dramatic border flower in a flower bed. Makes a great flower to line paths and walkways. This flower also makes a great cut flower to use in decorative floral arrangements.
This plant is attractive to butterflies, yet resistant to both deer and rabbits. These plants are harmful if eaten so care should be taken around small children and pets.
As a variety of tall bearded Iris, use this flower as you might any taller flower within your landscapes, borders, and flower beds. For the Gothic garden, plant in areas where you want a burst of deep, rich color in the spring and again in the late summer or fall. This plant would look great among a taller yard decoration such as a bird bath or other tall statuary.
Use with other flowers, decorative grasses, and ground covers that have a deep dark burgundy, maroon, or purple hue. The Superstition Iris will look perfectly at home among other dark or "black" flowers. This plant would also make a lovely addition to a Victorian Black Garden.
(Visited 689 times, 1 visits today)