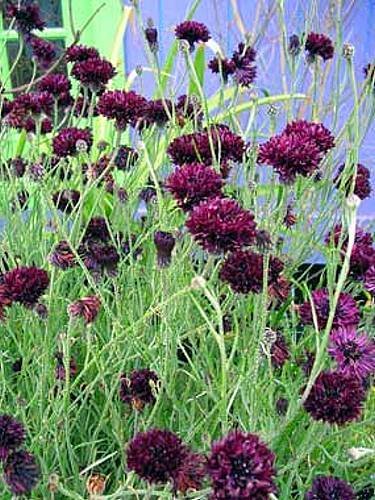 Centaurea Cyanus, also known as the Black Ball Cornflower, is a hardy annual double flowered plant that grows easily from seed. Black Ball Cornflowers have a rich maroon or almost deep chocolate color that makes them appear almost black in certain lighting conditions. The dark blooms have a roundish appearance that resembles a pincushion and the green leaves are long and lance shaped. Multiple stems on the plant will provide many colorful blooms starting in early summer and continuing until the first frost appears in the fall. Some people describe the blooms of these plants as looking similar to a burst of fireworks. These flowers can add a touch of drama to any garden in which they are planted, due to their dark color and tall height of around 30 inches.
When and How to Plant
Centaurea Cyanus seeds can be sown directly outdoors during the months of March and April for summer blooming during the months of June, July, and August. These flowers prefer a very sunny spot in the garden and will thrive in areas with well drained soil. Seeds should be planted 1/8 of an inch deep and watered regularly until the plants are well established. Germination will typically occur within two to three weeks after sowing the seeds. After seedlings sprout, they should be thinned out so they are spaced around 6 inches apart from each other to avoid overcrowding. Deadheading the cornflower plants after the blooms have faded will encourage a longer blooming season and more blooms. Take care not to use too much fertilizer or you may end with more leaves than blooms on these plants.
Cornflower (Centaurea Cyanus) Black Ball
&
Great Uses for the Black Ball Cornflower
The Black Ball Cornflower is a great choice to plant if you wish to attract bees, butterflies, and other important pollinators to your garden area. The beautiful blooms make a striking border flower and also work well in wildflower gardens. Aside from being the perfect accent flower for a cottage garden, Centaurea Cyanus can also be a key flower to add to any gothic garden theme due to its deep, rich color.
Centaurea Cyanus in the Gothic Garden Setting
To achieve the look of a gothic garden, plant the Black Ball Cornflower along with other plants in shades of deep, dark color that appear almost black, dark red, or very dark purple. Darker colored climbing vines and ground covers also work well to create a gothic look. Some other flowers that coordinate well with the Black Ball are the Black Magic Rose, Arabian Night Dahlia, and the Sooty Sweet William. Choose other dark flowering plants that will bloom at various times of year, so that you have blooms from early Spring, throughout summer, and into early to mid Autumn. When using the Black Ball Cornflower, keep in mind that it is a tall plant and can make striking borders as well as stand above other shorter plants when paired together in grouping different varieties of flowers.The Centaurea Cyanus would make a great accent planted near a wrought iron fence or archway. Place a gargoyle statue or other gothic yard statue nearby to add a decorative touch.
(Visited 544 times, 1 visits today)