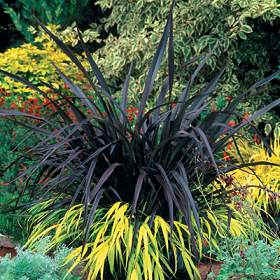 Phormium Platt's Black Grass is a perennial member of the Agavaceae plant family that grows to reach a height of about three to four feet tall, as well as being three to four feet in width. This plant is moderate to fast growing, and features long, lance shaped leaves that are a very deep purplish red color that can appear so dark as to be almost black. The leaves are upright and narrow and as the plant grows it spreads and arches, making it a great choice for container planting as well as for use in decorative accent borders. The spiky leaves will develop small, tubular shaped , burgundy flowers when fully matured. In New Zealand, these flowers attract the tui bird, the only pollinator of this plant. Here in the United States, it will attract hummingbirds to your garden.
Care and Maintenance of Phormium Platt's Black Grass
This plant was introduced by Graham Platt of New Zealand, and is also known as Platt's Black New Zealand Flax and Phormium Tenax 'Platt's Black'. It prefers well drained, average to fertile soil and regular watering. Avoid over watering, as too much moisture in the soil can cause root or crown rot in this plant. Take care when using fertilizer to avoid applying too much, or you will end up with a lot of weak, leafy growth and produce very few flowers. Plant Phormium Platt's Black Grass in a sunny location or in one with only partial light shade. The plant is deer resistant and provides a dramatic accent to any landscape. Remove spent floral stems by cutting them back to keep the plant looking nice. Although this plant is native to New Zealand, it has adapted to a wide range of growing conditions and grows well almost everywhere, with the exception of high and low desert areas.
Grasses: An Identification Guide (Sponsored by the Roger Tory Peterson Institute)
Ways to Incorporate Black Grass into Your Garden or Landscape
Phormium Platt's Black Grass works well in the garden when planted along with colorful flowers in shades such as burnt orange, silver, and chartreuse yellow. It also works well in large container plantings when used as the centerpiece or focal point of the arrangement. Other suggested uses include combining the Black Grass with other grasses or succulents, or planting it with other perennials in Mediterranean colors. Due to it's deep, dark coloration and spiky evergreen foliage, this plant would also work well in a gothic garden as a dramatic accent piece or border plant. Platt's Black Grass is also very resistant to the heat that is reflected from paved surfaces, making it ideal for use in roadside landscape plantings. This plant looks great when planted in large, bold groupings, or when used as a focal point mixed in with other plants. Adds seasonal interest all year round thanks to the evergreen nature of the plant.
3 Containers of 2.5 Inch Pot of Black Mondo Decorative Grass, Nicely Rooted
&
In New Zealand, the Maori people who live in the region often use the fiber that is found inside the leaves of these plants, which they refer to as flax. The Maori people harvest these fibers and use them to make woven mats, cloth, and baskets.
(Visited 1,506 times, 1 visits today)