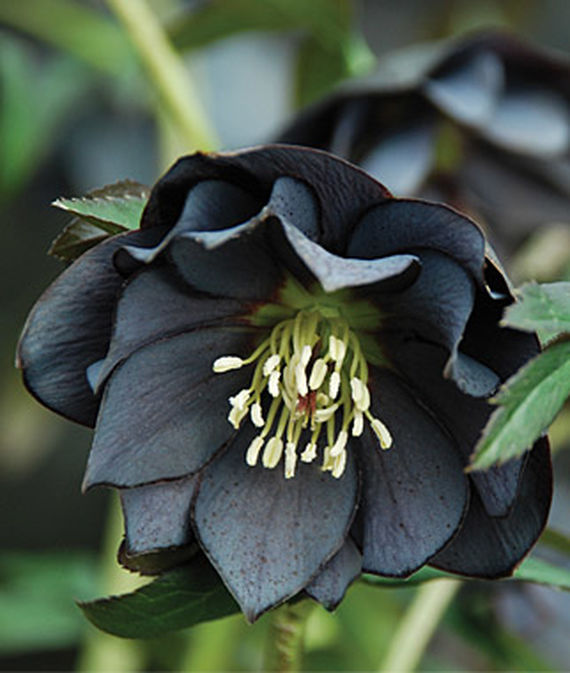 The Onyx Odyssey Hellebore is a flower that was introduced in the year 2008 by breeder Marietta O'Byrne. These flowers are about three inches wide and feature full, double flowers with approximately fifteen to twenty petals per flower, giving them an almost fluffy appearance. The Hellebore is a downward facing flower that will bloom for six consecutive weeks starting in later winter, into early spring. The Hellebore, Onyx Odyssey, is also known by the nickname of the Lenten Rose because it is often in bloom during Lent.
These black flowers are not truly black, but are such a deep, dark shade or purple that they appear to be. The petals keep their coloration as the seeds begin to develop, which keeps them looking great long past the time of their initial blooming. The color of the newly emerging foliage will be purple in early spring, and will mature into a beautiful shade of green.
&
have low to average watering requirements, and will bloom in early to mid-spring. The Hellebore will reach a height of eighteen to twenty two inches. This is a slow growing plant that needs to be planted in partial shade or full shade and grows well in average or fertile soil These perennial plants can be purchased at your local garden center for planting in the spring and for blooms year after year. Use in a container or patio, or in a woodland garden. These plants are also resistant to deer and rabbits.
These unique black flowers are also the perfect choice for a gothic style garden. For a truly gothic look, plant among other flowers of a near-black hue, or deep red and deep purple flowers. Perfect companion flowers for the Onyx Odyssey include the "Dark Dimension" Hyacinth, the Bat flower, Tulip Black Parrots, Black Orchids, and the Vampira Orchid.
Featured: Hellebores: A Comprehensive Guide
(Visited 1,274 times, 1 visits today)