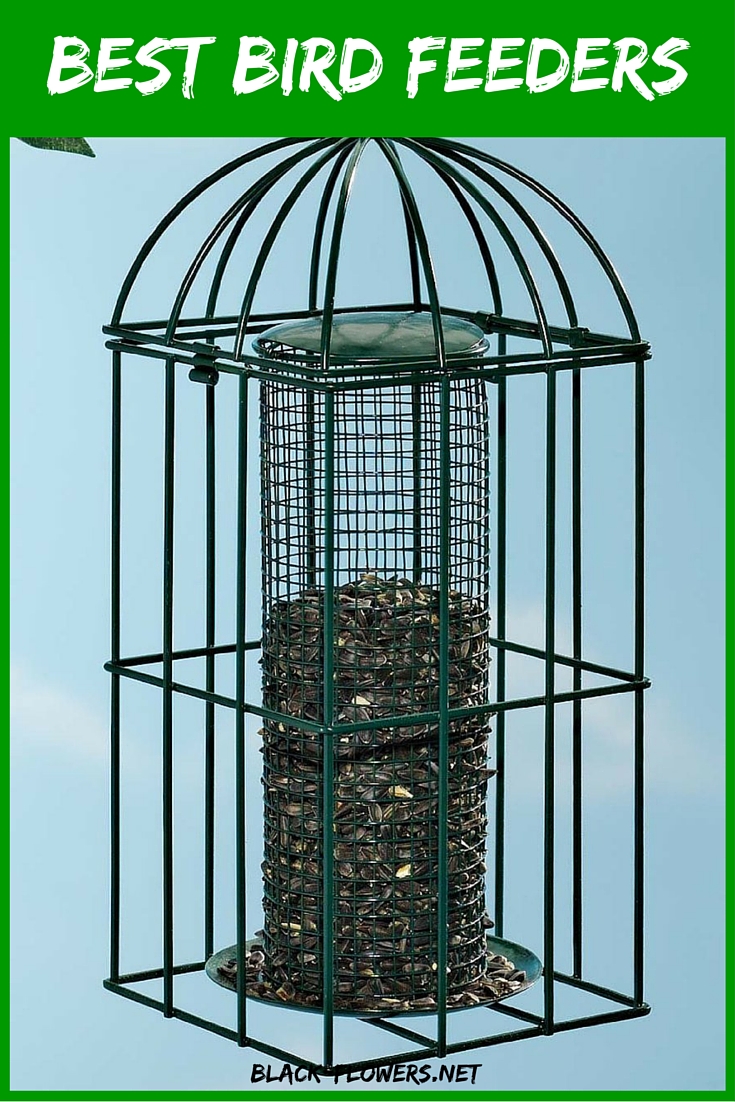 It's time to start thinking ahead to the quickly approaching summer months and about attracting your fine feathered friends to your yard and garden areas. Birds are truly beautiful creatures and are very fun to watch, which is why so many people choose to place bird feeders in their yards so that they can observe them. There are many different styles of feeders to choose from, and some work better for attracting specific birds and in certain circumstances. Perhaps you want a feeder that is virtually squirrel proof, or maybe you'd like a style that will discourage larger birds so that the smaller species can feed in peace. Or, maybe you want to attract the delightful tiny hummingbird to your yard. Whatever the situation, there is surely a feeder to suit your needs. Here we take a look at some of the best bird feeders to add to your yard this year.
Large Window Bird Feeder
This is a clear, see through bird feeder that easily mounts on any window with easy to use suction cups. This a great choice if you want to be able to view the birds up close. It is also a good design if you have issues with squirrels raiding your bird feeders. Ideal for those who live in apartments or high rises and other situations where they may not have their own yard or tree to hang a traditional bird feeder from. Feeder has a perch for the birds and built in drain holes to water will not collect and pool in it. Set up this feeder and sit back near your favorite window and enjoy the show all summer long.
&
Victoria Birdfeeder
If you want to attract small birds to your feeder, while keeping unwanted critters away from the seed, this metal bird feeder is a great choice. This is a sturdy metal feeder that has a protective outer guard that somewhat resembles a bird cage. Inside is a long tube that you will fill with seeds that allows access to the food for the birds, but keeps the squirrels out. Small drainage holes help to keep bird seed dry. Bird feeder measures 12 inches high.
&
32-ounce Hummingbird Feeder
Attract delightful hummingbirds to your yard and garden space with this durable polymer feeder. Feeder features a wide mouth reservoir and the two piece base makes it easy to both clean and fill. Offers ten feeding ports and holds up to 32 ounces of sweet nectar. Round perch design has an "S' hook and a red base to make it attractive to hummingbirds. Measures 7 inches by 7 inches by 9.2 inches.
First Nature 3055 32-ounce Hummingbird Feeder
&
Dorothys Cardinal Feeder
This is a versatile platform style bird feeder that can either be hung or mounted on a pole. Feeder has a 15 inch dome that can be lowered to help protect seed from weather and to help keep larger birds out of the feeder. Platform is 13 inches in diameter and can hold up to a quart of bird seed. Platform style feeder also offers the option to feed items other than seed, such as fruit or suet. An ideal choice for those who wish to attract smaller birds to their yard and garden.
&
Best Bird Feeder to Attract Wild Birds
This is one of the best bird feeders for a number of reasons. Feeder is shaped like a mushroom and has a bright red color on the top designed to attract a wide variety of birds, including goldfinches, woodpeckers, sparrows, kinglets, and chickadees. Metal construction makes it sturdy and resistant to invasions by squirrels. Hangs from a steel cable and can be securely attached to a pole or tree. The orifice that holds the seeds is made from mesh to allow you to fill it with seeds and nuts without spillage. This design also helps keeps squirrels out. Product is both durable and weather resistant and has an easy twist off top with allows for easy filling. Seeds, nuts, or pieces of suet cakes may be used with this feeder. Can hold up to one pound of food. Top measures 8 inches wide and the wire mesh part is 8 inches long.
&
No/No Solar Lighthouse Finch Bird Feeder
This bird feeder is made from all metal, is 14 inches tall, and can hold 1.5 pounds of seed. Designed to look like a lighthouse, this feeder dispenses seed evenly through its metal mesh construction. This keeps seeds fresher for a longer period and also prevents water from collecting in the feeder. Provides plenty of space for both clinging and perching birds to feed, and can accommodate up to fifteen birds at one time. Offers a feeding tray on the bottom and a perch ring mid-way up the lighthouse. Lighthouse design is done in a classic black and white with a touch of red. The LED lights are solar powered and will shine at night through the four tiny windows at the top of the lighthouse. Makes a charming and attractive addition to any yard or garden space. Easy to use, simply fill and hang.
No/No Solar Lighthouse Finch Bird Feeder
&
Copper Sip and Seed Wild Bird Feeder
This design provides two bird feeders at once. You can use the two silo designs to fill both with feed, both with water, or one with feed and one with water. Patent pending collar designs allows you to adjust feeder according to whether it contains water or seed. Each silo is made from glass and features an antiqued copper finish. Includes a decorative hanger from which to hang both silos. Each silo will hold up to 1.15 pounds of food or 22 ounces of water. Product measures 6.6 inches, by 11.6 inches, by 15.4 inches. When cleaning is needed, use a bottle brush to scrub the inside of each silo. This is not only a functional bird feeder, it is also a very attractive decorative addition to your landscaping.
Copper Sip and Seed Wild Bird Feeder
&
(Visited 547 times, 1 visits today)