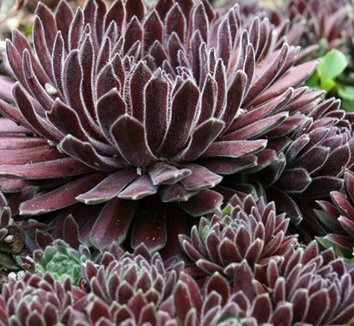 Sempervivum 'Crimson Velvet' (Hen and Chicks) is a type of hardy cactus/succulent that originated in the United Kingdom. It features dark red leaves that are covered in a fine layer of "fuzz" that resembles down or velvet, giving it the name of Crimson Velvet. The leaves grow in such a way that they form tiny mounds, which is why the plant is sometimes referred to as Hen and Chicks when there is one larger mound and several smaller ones around it. These plants grow to be around three inches in diameter and are perennials that will tolerate temperatures of -20 to -30 degrees Fahrenheit, while still retaining their deep red color through winter.
Where To Plant
The Crimson Velvet prefers well drained soil, preferably of the sandy or gritty variety. Plant in areas that receive full sun to partial sun. This plant does not require much water since it is a type of cactus, so take care not to over water. This Sempervivum does bloom and can produce white or pink flowers, however it may take several years before it actually does bloom. The plant can bloom anytime between summer, late summer, to fall.
Uses For Crimson Velvet In The Garden
Crimson Velvet adds a burst of color to the bland landscape in winter, as well as attracts bees and butterflies to the garden in warmer months. It makes a great addition to alpine or rock gardens, works well in small container plantings, and can even be used as an attractive ground cover. Plants are resistant to both pests and deer.
Sempervivum In The Gothic Garden
Due to its deep, rich color and unusual appearance, this Sempervivum would make an attractive addition to a gothic garden. Ideas for using it in a gothic theme might include placing containers filled with the Crimson Velvet throughout various spots within the garden space, or planting them in strategic locations as a colorful ground covering. Incorporated with other flowering plants that are dark red, deep purple, or almost black in appearance, the Crimson Velvet can be a striking addition to your landscape. Due to its low growing nature, mix this plant with others of similar dark colors, but with varying heights to create an interesting and eye catching garden. Keep in mind when choosing locations in which to plant Crimson Velvet that this plant will provide color year round. Some suggested plants to accompany the Sempervivum might include the "Watchman" Hollyhock, Black Velvet Petunia, or the Black Ball Cornflower.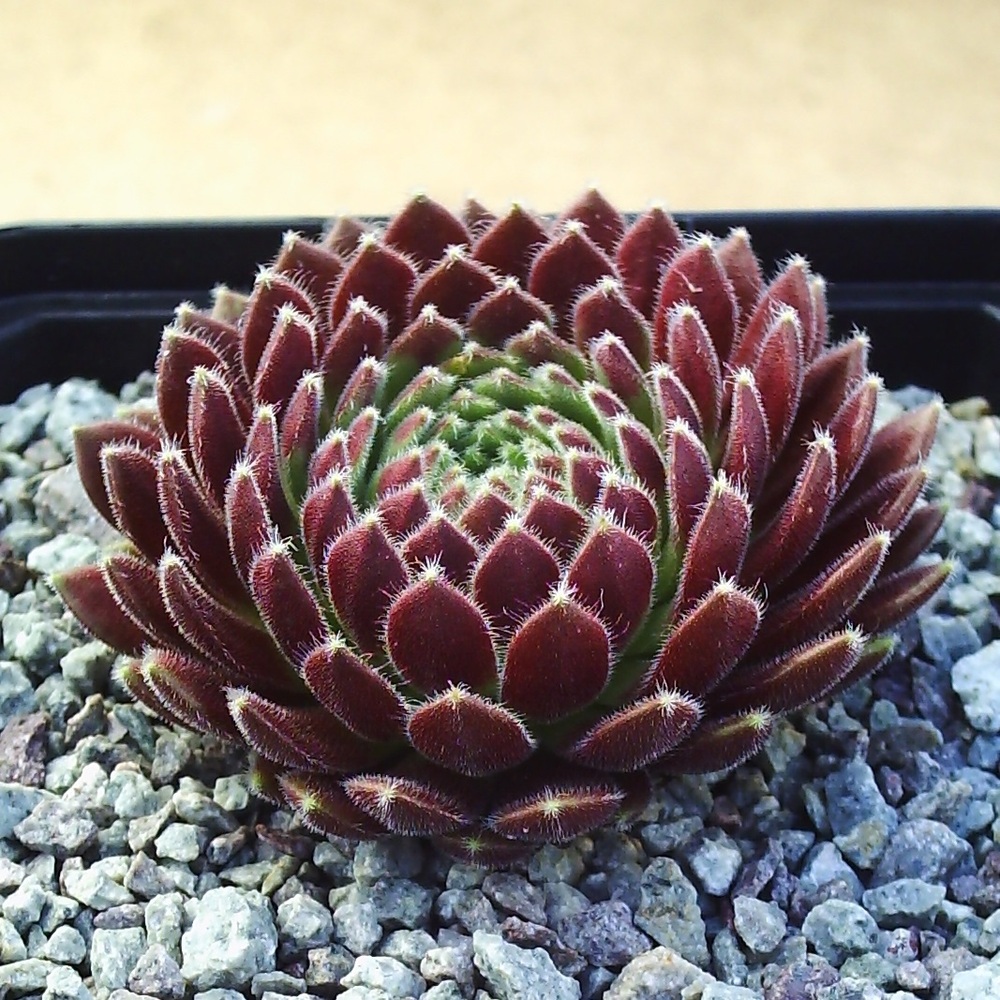 (Visited 896 times, 1 visits today)