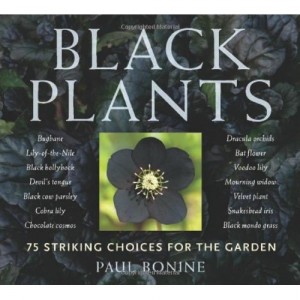 With one of the newest and most fashionable garden trends, creating gardens full of lovely black and dark purple flowers, a new guide has come along that will help you getting started making a gothic garden or just adding several accent plants to your existing garden.
These dark lovelies are naturally black or dark purple, and they just exude dark, deep mysterious color.  Cast among the greenery of a spring, summer, or fall garden, black plants add a new range of color to work with for gardeners.
Paul Bonine, author of Black Plants: 75 Striking Choices for the Garden, is co-owner of the wholesale nursery Xera Plants Inc. and has worked in the nursery industry in Oregon for almost two decades. His experience with real customers is helpful in choosing the black plants and flowers to outline in this book.  For anyone who is unfamiliar with the black flowers, this is an excellent resource to start with.
Here is what is written on the book's dust jacket:
"Striking, mysterious, sinister, and strange all describe the singular appeal of plants with black (or near-black) foliage, flowers, or fruit. For some gardeners, they are curiosities that yield a special thrill. For others, they are invaluable for providing contrast with brighter elements. Whatever the source of their somber magic, these dusky denizens of the plant kingdom are irresistible to anyone drawn to nature's more unusual manifestations.
In this compact, accessible volume, Paul Bonine profiles 75 of the most alluring black annuals, perennials, bulbs, and shrubs. Some of the plants—like agapanthus and lilies—are darker versions of familiar favorites, while others are rarities that will appeal to the most discerning collector. Each entry describes the plant's essential features and details the requirements for growth and care.
Whether your taste runs to pansies, columbines, and sweet williams or to obscure orchids from the Andes, you'll find a host of intriguing choices in this beautifully illustrated, entertaining book. Black Plants: 75 Striking Choices for the Garden
is sure to haunt your dreams."
Black Plants: 75 Striking Choices for the Garden
"Black is not the first color that comes to mind when you think of plants. But as this beautiful guide makes clear, dark-hued leaves and flowers, from perennials to tropicals, have enormous appeal in a garden." (Martha Stewart Living )
(Visited 2,822 times, 1 visits today)